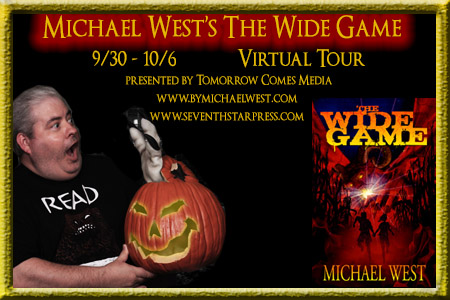 I've been working on the sequel/companion novel to Divide by Zero, another book set in the same world, with some of the same characters
.
It's a fairly normal world, with fairly normal people, in a normal place, not hard to imagine at all.
I've been writing more New Testament entries in my Five Minute Bible Story (TM) Series too, all set in the historical world of Israel, 2000 years ago. But all I have to do is research what the world was like, read the Bible, read a few other books, add characters and stir. (Follow the blog tour at http://sheiladeeth.blogspot.com/p/bethlehems-baby-tour.html.)
Meanwhile author Michael West has created a complete and believable contemporary town that's only outwardly normal. It exists in the author's and readers' imaginations, replete with history, geography and more, and it's peopled with fascinating characters, awesome scares, and gore. If you've never been to Harmony Indiana, be very careful with these books, or you'll quickly find yourself hooked....
So...
Find out more...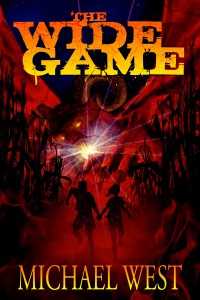 About
The Wide Game:
On the advice of his wife, Paul Rice is making plans to attend his 10th year High School reunion. Returning to his boyhood home of Harmony, Indiana, he finds that he is still haunted by memories of that time-memories of Deidra, his first love, and memories of the Wide Game. It was ten years ago that Paul and his friends watched their day of fun become a race for their lives, a fight for their very souls. Now, as he meets the survivors of that day once more, Paul makes a chilling discovery: the incomprehensible forces that toyed with them have yet to finish playing their own game. The Wide Game is one of the Harmony, Indiana horror novels from Michael West, which also include Cinema of Shadows and Spook House.
About Skull Full of Kisses:
Love and evil know no bounds! Turn the page and enter a world of shadow, as Michael West brings together his most disturbing short stories–twisted tales of forbidden desires and ghoulish deeds, where nightmares manifest in the most mundane and unlikely of places…
The basement of a Japanese restaurant, where a seductive creature promises comfort to a lonely hitman, if only he will set her free…
A ruined city, where survivors of a natural disaster have become prey to something unnatural…
An Indiana farmhouse, where a frightened child attempts to fool the Angel of Death…
And the darkest regions of space, where a man fights to protect the woman he loves from invaders only he can see…
Ten reasons to lock your doors.
Ten reasons to keep the lights on.
Ten reasons why you may never sleep again.
And don't miss
Cinema of Shadows
,
Spook House
, and
Poseidon's Children
, reviewed at:
http://www.goodreads.com/review/show/470747064
,
http://www.goodreads.com/review/show/470759117
and
http://www.goodreads.com/review/show/355597246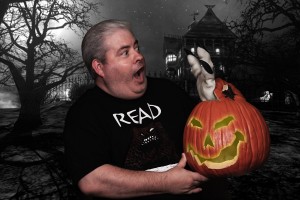 About the Author, Michael West:
Michael West is the critically-acclaimed author of The Wide Game, Cinema of Shadows, Spook House, Skull Full of Kisses, and the Legacy of the Gods series. A graduate of Indiana University, with a degree in Telecommunications and Film Theory, West has written a multitude of short stories, articles, and reviews for various on-line and print publications. He lives and works in the Indianapolis area with his wife, their two children, their bird, Rodan, their turtle, Gamera, and their dog, King Seesar. His children are convinced that spirits move through the woods near their home.
Author Links:
Website:
http://www.bymichaelwest.com
Twitter: @bymichaelwest
About the
Tour Activities
9/30 Fallen Over Book Reviews Spotlight
9/30 Lost Inside the Covers Review
9/30 A Haunted Head Contest
9/30 SpecMusicMuse Interview
10/1 Jess Resides Here Guest Post
10/1 Come Selahway With Me Top Ten List
10/2 3 Partners in Shopping, Nanny, Spotlight
Mommy, and Sissy Too!
10/2 Armand Rosamilia, Author Guest Post
10/3 Sheila Deeth Spotlight
10/3 Deal Sharing Aunt Review
10/4 MikesFilmTalk Interview
10/4 Book Den Spotlight
10/4 L. Andrew Cooper's Horrific Scribblings Review
10/5 Beauty in Ruins Guest Post
10/5 Pick of the Literate Review
10/6 Bee's Knees Reviews Review
Amazon Links for The Wide Game:
Print Version
http://www.amazon.com/The-Wide-Game-Michael-West/dp/1937929183
Kindle Version
http://www.amazon.com/The-Wide-Game-ebook/dp/B00E4RHND2
Other eBook formats:
Nook
http://www.barnesandnoble.com/w/wide-game-michael-west/1100052074?ean=2940148771043
Kobo
http://store.kobobooks.com/en-US/ebook/the-wide-game
iBookstore
https://itunes.apple.com/us/book/the-wide-game/id691149319?mt=11