Think you know where fictional characters come from?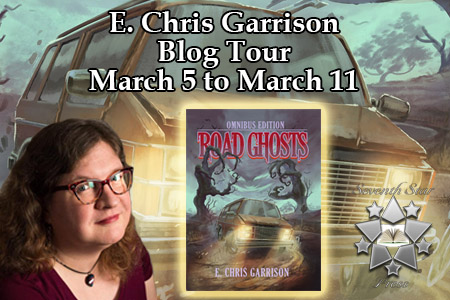 Today I'm delighted to welcome author E. Chris Garrison to my blog with her zanily scary Road Ghosts... thought actually, she seems to be meeting them at Heath's Brewpub downtown, so maybe you'll just have to leave your coffee on the table and follow me there. Here goes... Heading your way Chrissy... and I'm really looking forward to learning what inspired these amazing characters.
Inspiration Intervention
The blues music matched my mood as I slouched into Heath's Brewpub downtown. It'd been a rough day, none of my characters was speaking to me. I mean, I guess if they put me through what I put them through, I wouldn't be on speaking terms with them, either. The bar was fairly empty, except for one rowdy table over in the bar area.
Heath himself came out from behind the bar to greet me, his smile as warm as the fire crackling in the corner.
I greeted him with a smile of my own. "Slow night?"
He shrugged and used his chin to point toward the rowdy table. "They've been waiting for you."
Surprised, I started to protest, but Heath took my arm and led me to the round table, its occupants suddenly quite familiar to me.
Ever get what you wished for, but not how you wished for it? That was me, right then. I groaned aloud. "Oh, no. What is this, some kind of intervention?"
My characters sat at the table, each with their own drink. Gonzo set down a tall mug of Heath's darkest brew and rose from the table to scowl at me. "You bet your butt it is!"
Brett glanced up from a plate of cheese fries to meet my eyes. "Well. Let's say we've got questions, Chrissy."
Lizzie sipped what looked like a Cosmopolitan from a martini glass and smiled. "You know, if you don't mind. Buy you a drink?"
Caroline grinned, pouring beer into a mug from a brown bottle. "Of course she doesn't mind, do you, Ms. Author Lady?"
I looked helplessly at Heath, who let out a belly laugh. "The usual, ma'am?"
I nodded. "If you still have any left."
Heath winked at me. "For you? Always have some Heather Gruit in reserve."
I sat, looking at my characters around the table. "No Frannie or Jimbo tonight?"
Gonzo sat next to me. "Naw. They couldn't make it, said they had a big raid to attend on WoW. 'Sides, I think they're more annoyed with you than anyone, since we're askin' about where you came up with each of us. I gotta admit, I'm not sure I want to find out, but I kinda have to, you know?"
I smiled and shrugged. "Well, it's best not to discuss some origins, and others don't make a very good story, and still others come evolve over time into something I never anticipated…"
Lizzie cut me off, fairly well bouncing up and down in her chair. "Oh come on, Chrissy! Stop stalling and spill. Where'd Gonzo come from!"
Gonzo and I met eyes a long while. "Well, Gonz is probably the truest to life, in that he's based on my real life uncle Chuck, who passed away shortly before I started writing the first Road Ghosts book, Four 'til Late. You could say his sudden death inspired me to do what I'd been meaning to do for years; get serious about my writing."
Gonzo couldn't hide the shock in his expression. "You're shirting me, kid! The inspiration for me is a dead guy?" Only he didn't say "shirting". Gonzo's language can be pretty rough, but he doesn't mean any real harm by it. He just doesn't think language should be restricted. I tend to agree, but I've learned that his ways aren't for everyone.
I shook my head. "Nope. In a way, you're one way he lives on within me, a way I can revisit him whenever I want to, even if he's gone in real life." I took off my glasses and pretended to polish them as I wiped at my eyes with the back of my hand. Damn it, I don't want to cry in front of my own characters!
The big guy put a hand on my arm and smiled. "Guess if you put it that way, it's not so bad."
Heath arrived with his usual perfect timing and handed me a pint of reddish brown ale. I could smell the heather flowers' aroma from the fizzy head of the beer. I took a long drink of the legendary stuff and its magical essence suffused my whole being for a wonderful moment.
Poke. Poke. Someone was poking me. I turned to see Caroline peering at me through squinty eyes. She chuckled at my annoyed expression. She said, "Okay, do me, girl."
I had to laugh, but I refused to take the bait. "Hmmm, I'm not sure you're going to like it."
Her impish smile faded a few degrees. "Wait, what? Why wouldn't I like it? What wouldn't I like?"
I laughed. "Well, it's not who you're patterned after that's the issue. It's what your original purpose was supposed to be in the books."
She gnawed at her lower lip in impatience, paused a moment, then said, "Well, go on!"
I shrugged. "So, you're based on a dear friend of mine I met while ghost hunting."
Brett perked up at this and said, "You've been ghost hunting?"
I nodded. "Totally. I went ghost hunting with a great bunch of people, including my wife, for a lot of years. I'll get back to that, okay?"
Brett nodded and went back to his fries.
I continued, feeling Caroline's intense stare. "So, Caroline, the part you're not necessarily going to be keen on is that you were supposed to just be a one chapter cameo, a sly wink to include a friend in the story."
"Told you. But you turned out to be a wonderful addition to that particular story, so I kept you around. Besides, just like your real life counterpart, you just kinda took over."
She beamed. "I think I'd like her."
"You probably would. Except you'd have to take turns being in charge."
She pretended to scowl, and I had to laugh.
"Chrissy, oh Chrissy!" Lizzie seemed about to burst.
I took another long drink and said, "Okay, okay, Lizzie. You're probably the most real fictional character I've ever come up with."
"Wh-what? I wasn't based on a person in your other world?" I swear, her lower lip quivered and my heart melted a little.
I sighed. "Well, I did know someone a little like you in an online game and community I used to be in, but you just came to me out of nowhere, the kind of person you had to be to make the story more fun, to counterbalance the guys, you know? A free spirit, someone impulsive but strong, an instigator and a loyal friend."
Lizzie preened. "Gee, Miz Writer, that's sweet of you to say. You make me sound like one of those Manic Pixie Dream Girls I hear about."
Brett giggled. "You're my dream girl, you know."
She pinched him. "You better believe I'm more than just a dream, chico!"
Brett winced and stuck his tongue out at Lizzie. "Ow! Yeah I guess I'm not asleep! Don't do that!" He looked over at me, his eyes shy. "Am I made up too?"
I found I'd somehow polished off my Heath brew without realizing it. Another appeared in front of me, provided by the man himself. "Well, Brett, it's a little complicated with you. In a way," I took a deep breath and let it out. "In a way, you're me."
He stared at me. "I… I don't see the resemblance."
I smiled and didn't break eye contact. "No, you probably wouldn't. You're certainly a guy version of me, and the ghost hunter part of me, the geeky parts of me. You're me a long while ago, if things had gone differently in my life. There's a lot about me that isn't included in you, and a lot developed in you as I wrote your stories."
Gonzo butted in. "Wait. His stories? I thought I was the main character!"
I could feel my face turn red. "Well, that is, all my characters are important, especially you all…"
Brett's face split into a wicked grin. "It's me, isn't it? I'm the main character!"
I couldn't meet anyone's eyes as I nodded. "Yes, you are, Brett. But the story is all about you all as a group of friends, and the plot centers on you and your struggles." I shifted uncomfortably in my seat. "Are we done here yet?"
Gonzo started to say something, but Brett cut him off. "No. I have one more question for you. Cheryl. The ghost of my dead college fiancee, where did she come from?"
I stared into my beer, took a drink, then looked up at him. "Brett, she's based on someone from my own college days, someone who left my life as abruptly as Cheryl left yours. That's all I really want to say about it. But Cheryl is a character like Lizzie who took on her own life quickly enough that it doesn't really matter who she's based on. What mattered was what she meant to you, and that was based in a hard time in my life. In a way, I was exorcising old ghosts of my own by including her."
Brett nodded and said, "In that case, I feel for you."
Gonzo cleared his throat and spoke up. "Okay, we've given her enough of a hard time, let's drink to us, no matter where we came from."
I raised my glass along with the rest of the characters. "To us!"
To all of you indeed. And thank you so much Chrissy for answering their (and my) questions!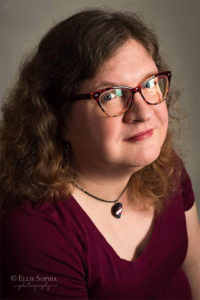 About the author:
E. Chris Garrison writes fantasy and science fiction novels and short stories.
Chris has two series published by Seventh Star Press, the Road Ghosts trilogy and its companion series the Tipsy Fairy Tales. These urban fantasies feature ghosts, demonic possession, and sinister fairy folk delivered with a "lightly dark" side of humor.
Her latest series is Trans-Continental, a steampunk adventure with a transgender woman as its protagonist. The series is set in one of the worlds in Chris's dimension-hopping science fiction adventure, Reality Check, also published through Silly Hat Books. Reality Check reached #1 in Science Fiction on Amazon.com in 2013. Silly Hat Books released Alien Beer and Other Stories, a collection of her short stories, in 2017.
Chris lives in Indianapolis, Indiana, with her wife, step-daughter and many cats. She also enjoys gaming, home brewing beer, and finding innovative uses for duct tape. Keep up on the latest news and releases from Chris at https://sillyhatbooks.com/
Where to find her:
Website: https://www.sillyhatbooks.com
Twitter:@ecgarrison
Facebook: https://www.facebook.com/EChrisGarrison/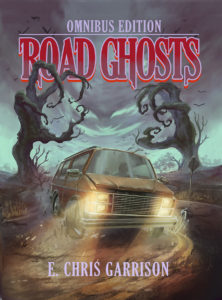 About the book: The Road Ghosts (Omnibus Edition):
Somewhere Between Scooby-Doo and Supernatural
The Road Ghosts Trilogy introduced readers to E. Chris Garrison, one of speculative fiction's most gifted voices. Presented here for the first time in a single volume, you'll meet amateur ghost hunters Brett and Liz, along with their friends Gonzo, Jimbo, and Frannie. Go along for the ride as the gang chases ghosts and battles demons, ghouls, and stranger things up and down the interstate highways of the Midwest.
The Road Ghosts Trilogy spawned several short stories (such as "Spectral Delivery," included here!) and introduces readers to "Skye" MacLeod, whose adventures continue in Garrison's popular Tipsy Fairy Tales Series. This omnibus volume includes:
Four 'til Late
(Road Ghosts Trilogy, Book 1) Brett, Gonzo, Jimbo, and Liz embark on a road trip with dangerous detours, dreadful dreams and dire warnings. Along the way they discover that some spirits leave you with more than a hangover and regrets. Turn up the radio and get moving, because the road ghosts are waiting.
Sinking Down
(Road Ghosts Trilogy, Book 2) Brett and Liz are back in over their heads when a forest hunt for a roadkill-eating creature offers up a ghoulish little surprise. Worse than that, they find that Brett's fate is linked to the creature's. So it's back out on the road, with unexpected pit stops with a greedy ex, a convention of ghost hunters, partying with fake vampires, and drinking and fighting alongside Uncle Gonzo.
Me and the Devil
(Road Ghosts Trilogy, Book 3) Brett, Liz, and Gonzo undertake a difficult three-night webcast leading up to Halloween. If they're successful, they may finally get the recognition Brett seeks. But ever since the events in Sinking Down, Brett has been a little… off. On the first night of the webcast, Brett's sudden tantrum both boosts ratings and terrifies his friends. As Halloween approaches, Brett's friends find themselves in a desperate fight to save his soul — and his life.
"

Spectral Delivery" (Bonus Short Story) Meet Enid, a pizza delivery trainee who's stuck riding along with ghost-geek Brett on Valentine's Day night. Her boyfriend begs her to try to get off early, but things get weirder and weirder as she and Brett encounter the paranormal at every stop.



Where to find them:
Amazon.com Links for The Road Ghosts (Omnibus Edition):
Kindle Version
https://www.amazon.com/Road-Ghosts-Omnibus-Chris-Garrison-ebook/dp/B075L98KXD/
Print Version
https://www.amazon.com/Road-Ghosts-Omnibus-Chris-Garrison/dp/1941706886/
Barnes and Noble Link for The Road Ghosts (Omnibus Edition):
https://www.barnesandnoble.com/w/road-ghosts-e-chris-garrison/1127157435?ean=9781941706886
Find out more: Follow the Tour!
3/5 Beauty in Ruins https://beauty-in-ruins.blogspot.com/ Guest Post
3/6 MyLifeMyBooksMyEscape http://www.mylifemybooksmyescape.wordpress.com Author Interview
3/7 Sapphyria's Books https://saphsbooks.blogspot.com/ Top Ten's List
3/7 Book in the Bag http://bookinthebag.wordpress.com Interview
3/7/18 Jorie Loves A Story jorielovesastory.com Review
3/8 Sheila guests and reviews http://sheiladeeth.blogspot.com Guest Post
3/10 Jorie Loves a Story jorielovesastory.com Video Interview
3/11 Deal Sharing Aunt https://dealsharingaunt.blogspot.com/ Review