Is Length the only Difference between a Short Story and a Novel?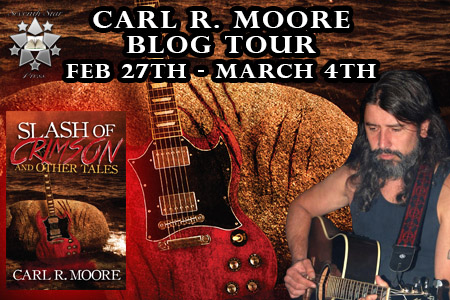 Today I'm delighted to welcome author Carl R. Moore to my blog. He's touring the internet with his book, filled with the music of intoxicating, scary things. Pondering whether those many things were stories or novellas, I asked him what form of writing he prefers, and here's his answer.
Short Story, Novella, or Novel
by Carl Moore
I think the novel is the form I love the most, and although Slash of Crimson and Other Tales is a collection and my first published paperback, with most of my writing I think in terms of creating that addictive novel that keeps you reading and keeps you satisfied for hours in a way that even binging Netflix and budding virtual reality can't compete with. I wrote the two novellas in the collection, Slash of Crimson and Torn from the Devil's Chest more in the manner of short novels than extended short stories. What I mean is that, while pacing is always key, I cared about depth of character in a way that is more akin to scenes cast in a longer series, where side characters have their own backstory, and there are objects and places that reappear in the universe where the stories take place.
For the short stories, I take the more classic view that we get in, get the goods, and get out. Of course, the characters are key in this form as well, but with the one-off nature of the story, whether a given character 'survives' becomes less important. Instead I aim for the single dramatic gesture that can either hit like a knockout punch, or sneak up like softly administered poison until the audience is left with a glimpse of eternity's face before the final lights-out.
Sounds like I should take a break from binge-watching Stranger Things 2 and enjoy some great reading. Thank you Carl. And thank you for visiting my blog.
Carl R. Moore is the author of Slash of Crimson and Other Tales, published by Seventh Star Press and available for purchase on
Amazon.com
.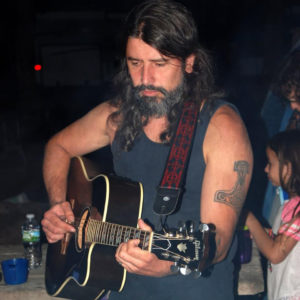 About the author:
CARL R. MOORE lives in upstate New York with his wife Sarah and two daughters, Maddy and Izzy. His fiction has appeared in numerous other magazines and anthologies. When he's not writing or working the night shift, he enjoys playing guitar and walking miles through the woods. News and contact information can be found on his website, www.carlrmoore.com
Author Links:
website:
www.carlrmoore.com
twitter:
@
carlrmoore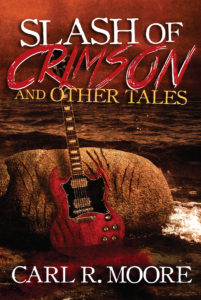 About the B
ook:
SLASH OF CRIMSON AND OTHER TALES offers two novellas and six short stories that combine an intoxicating mix of horror, crime noir, and alt-mythology. Its title story spins a dark maritime yarn about Drew Aldrin, a young guitarist and street rough, who takes a harrowing journey with a red-eyed beauty who claims she's from Atlantis. The half-dozen brutal and sardonic short stories that follow tell of lost souls tortured by demons and far worse. The final novella, Torn from the Devil's Chest, serves unsuspecting Sociology student Lyla Banes a deliciously disturbing feast of deception and trust-destroying lust. Indulge yourself in a collection that guarantees to thrill the senses while it shocks the nerves
Book Links:
Kindle Version
https://www.amazon.com/Slash-Crimson-Other-Tales-Moore-ebook/dp/B0712293QP/
Amazon Print Version
https://www.amazon.com/Slash-Crimson-Other-Tales-Moore/dp/1941706592/
Barnes and Noble
https://www.barnesandnoble.com/w/slash-of-crimson-and-other-tales-carl-r-moore/1126785022?ean=9781941706596
Find out more: Follow the Tour
2/27 MyLifeMyBooksMyEscape
http://mylifemybooksmyescape.wordpress.com
Author Interview
2/28 Amie's Book Reviews http://Amiesbookreviews.wordpress.com Review
2/28 Book in the Bag bookinthebag.wordpress.com Interview
2/28 Armand Rosamilia, Author http://armandrosamilia.com Guest Post
3/1 I Smell Sheep http://www.ismellsheep.com/ Guest Post
3/2 Sheila's Guests and Reviews http://sheiladeeth.blogspot.com Guest Post
3/4 Deal Sharing Aunt https://dealsharingaunt.blogspot.com/ Review