The Kingdom of Vosh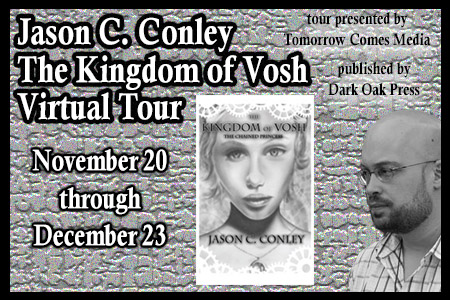 Today I'm hosting one of the final posts in The Kingdom of Vosh blog tour with a book review for Christmas... the only problem being, it's Christmas; the sons have arrived home; I've just learned to make edible gluten-free mince pies; my book, Nazareth Neighbors, just came out on kindle; someone needs a ride to the dentist; someone else wants me to help set up their laptop on our wireless network; and someone wants to steal my laptop to play games.... HELP!!!!
I have started reading though, and I am quite hooked, sufficiently so that my kindle is glued to my hand, picking up a layer of gluten-free flour as I bake, nestling next to the scissors as I wrap parcels, and... well, etc...
Why do I like it? Because that first scene is delightfully reminiscent of Dastardly and Muttley and their flying machines (a childhood favorite), well-crossed with Star Wars pod-racing. Then there's the Vork, which feels like an intriguing cross between a dragon and a Saint Bernard at the moment, but I'm sure I shall learn more. There's the writing, an enjoyably visual blend of first person narration, vivid description, and exciting third person action (especially racing through the skies). And the characters--back to the Vork again; I must learn more about him. There's a princess who's definitely more hapless than she imagines, and thoroughly spoiled. There's deep world-building, nicely told without slowing the story. There's a mysteriously evil bad guy, dark shadows in past a future, dialog that beautifully fits the part, a very special artifact, and a touch of magic...
A touch of magic, of course, is just what I need as I try to reproduce those edible gluten-free mince pies. They tasted so much better than the bricks I baked a few years ago. Life is good. And Merry Christmas! Meanwhile, if you're still waiting for a long-promised review from me, I will surely catch up, just as soon as I can.
Where's that kindle...
Where's that washing machine...
Where are the car keys...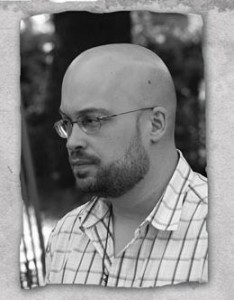 About the Author:
In 1999, Jason Conley drew a picture of a young woman's face. It eventually became the cover of the book you now hold. When not consumed by writing or art, Jason canoes, fishes, and hikes the rolling hills of Tennessee with his family.
There are secrets to this world we live in. Some faintly whispered, others hidden in plain view. Some of those secrets have been carefully placed throughout this book. Truth and fiction, it is what we try to discern between every day, though I wonder is it even recognizable anymore?
Do we know the truth or are we simply told what to believe in and what is real? It is a journey we are all on. It will be up to you to decide which parts are which.
Break loose of those chains and look around you, because the truth… will set you free.
About the Book:
Secrets have been formed in the dark corners of the kingdom. Change is in the air and whispers of new ideas and technologies have swept the land. Unfortunately, the King is old and simple and his daughter is concerned only with worldly possessions. A man by the name of Buul, a man long forgotten, has returned to pay a visit to the King on the King's birthday. He has not come empty handed and will be the King's undoing.
The King, in moments of panic and war, can trust no one with the protection of his daughter. He quickly decides to entrust her life with a creature most vile and uncommon and chains her to a Vork. He does not leave her empty handed though. His last gift to the Princess is an amulet with powers even he does not comprehend. The land's only chance, the only one loyal to the King's memory, is the daughter that cares nothing of the Kingdom of Vosh.
Author Links:
Website:
www.thekingdomofvosh.com
Facebook page:
https://www.facebook.com/TheKingdomOfVosh
Pinterest:
https://www.pinterest.com/jconley78/kingdom-of-vosh/
Tour Schedule and Activities:
November 20 Watch Play Read Review
November 20 Beagle Book Space Contest
November 21 Sapphyria's Book Reviews Guest Post
November 22 Jess Resides Here Guest Post
November 23 Lost Inside the Covers Review
November 24 Armand Rosamilia, Horror Author Guest Post
November 25 The Official Writing Blog of Dee Dee Davies Guest Post
November 26 Laurie's Thoughts and Reviews Guest Post
November 27 Spellbindings Review
November 28 Workaday Reads Guest Post
November 29 Bee's Knees Reviews Review
November 30 Azure Dwarf Review
December 1 Vampires, Witches, & Me, Oh My! Guest Post
December 3 Little Red Reviewer Interview
December 4 Myriad Musings Guest Post/Interview
December 6 Come Selahway With Me Guest Post
December 7 Breath of Life Review
December 9 Book in the Bag Review
December 11 Angela Meadon Blog Review
December 13 Deal Sharing Aunt Review
December 15 SpecMusicMuse Review/Interview
December 16 Word to Dreams Review
December 18 A Haunted Head Interview
December 19 Bookishly Me Review
December 20 The Dan Brien Project Guest Post
December 23 Sheila Deeth Blog Review
Amazon Links for The Kingdom of Vosh
Print Version
http://www.amazon.com/The-Kingdom-Vosh-Chained-Princess/dp/1937035433
Kindle Version
http://www.amazon.com/Kingdom-Vosh-Jason-C-Conley-ebook/dp/B00DDU70AC