Hilltops, Sunsets and Mystery
Today I get to welcome a Facebook friend, Joyce Strand, to my blog. Joyce's new mystery, ... has just come out, and she's touring the internet to celebrate. So come and join us as we sit on the sofa this morning. There's virtual coffee and tea, milk and sugar, water and juice, and even some lemon.
Hi Joyce, and welcome to my blog (and my virtual sofa). I've been wanting to ask you, h
ow long have you been writing, and how long have you been writing mysteries?
I am one of those who in school always chose essay over multiple-choice questions or research papers over tests.

Following my years of education, I entered a 25-year career as a public relations professional where I drafted hundreds of press releases and dozens of by-lined (ghosted) articles, fact sheets, white papers, and all kinds of documents. Writing was my favorite task in my job.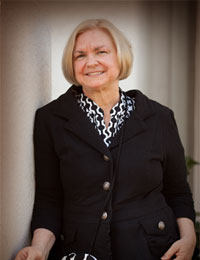 I started writing mysteries in 2009 after being laid off in 2008 and unable to land a position for the first time in my career. My late husband recommended it since I was an avid reader of mysteries and a writer by career. I have now released four mysteries and consider myself an author by profession.
Oh wow! I can relate to so much of this. I always chose essays over strings of questions too -- I remember writing a poem for Latin instead of doing the third declension, and writing an essay about the seashore (waves) for mathematics. I starting taking my writing seriously when I got laid off too, but not many mysteries. I love to read them, but creating my own seems so hard. For example, your mysteries blend the traditional red herrings with suspense and romance. How difficult is it to get the balance right, and what helps you determine that balance?
Bottom line: the characters determine the balance between suspense and romance and allow me to inject red herrings.
When I write a mystery, I start with bios of the key characters—both antagonist and protagonist—, knowledge of the crime, which I pull from real California cases, a clear idea of my opening scene (and sometimes other scenes), and how it will end. Depending on how much I've fleshed out my fictional story line, I might do a brief outline. As I introduce the crime with its own revolving circle of involved people, the characters' backgrounds suggest their boldness to become involved, their romantic entanglements, and the degree of suspense. If my antagonist is a "white collar" criminal, the suspense factor will be different than if he's a serial killer.
The gullibility of the characters determines the complexity of the red herrings. A wise and seasoned law enforcement detective might not be as misled as a public relations professional. In addition, I typically run parallel storylines and intertwine one with the other, which enables me to bring in various "red herrings" for one plot that might be more relevant to the other.
However, if the combination is out of balance, I trust my alpha and beta readers—and especially my editors—to point that out before I go to press. If I can't rationalize an issue based on characters' backgrounds, well, I rewrite!
Good beta readers are almost as essential as good characters aren't they? I'm assuming you find readers among your friends in the real world. But where do your characters come from, and how did you come up with the characters of Jillian Hillcrest and Brynn Bancroft?
I created the characters of Jillian and Brynn out of my 25-year career as a public relations professional. They are both caricatures of many of us who made publicizing and marketing our careers. Of interest, executives at high-tech and biotech companies exhibit similar traits – be they male or female. They take risks, make decisions, and revel in creating new products and making the stock go up. The persona of executives is defined by the degree of their commitment to their employees, the product, and investors – over their desire to focus on making a name or money just for themselves.
Much food for thought there. Where do your mysteries come from? Do you know the end when you write the beginning, or do you follow the clues along with your characters?
I drew the plots for all of my mysteries from real California cases although I highly fictionalized them. A retired FBI agent suggested the case for Hilltop Sunset, for example. He was one of the agents who helped solve it. And, yes, I do know the end of my mysteries. I create and distribute the clues, red herrings, and character development along the way. It helps to know the backgrounds of my characters, which guide the story.
That's seriously cool! But it leaves you lots of scope for imagination and fun in the writing.
I've always imagined mysteries must involve much more rewriting than other genres, to get all the clues set in place. Do you find that to be true?
I don't know if mysteries require more rewriting than other genres, but I certainly need to assure the clues occur with clarity, are not overstated, and in the correct sequence. To prevent errors, I typically create a timeline for every day of the period covered in the book to assure that I do not make a mistake in the chronology. I do not skip any days, even if I've written nothing to occur on that day. For Hilltop Sunset, for example, a very important clue relies on the timing of a specific meeting. Every time I'd introduce a character or dialogue relevant to that meeting, I'd go to my timeline and fill it in. I was surprised when my editor actually caught the clue, not knowing when she read it that it was a clue. She just thought one of my characters made a mistake.
Wow! That's neat. The editor of my first novel found an error in my timelines, so I'm trying to teach myself to use them more.
Which I guess begs another question; do you write in other genres (with or without complex timelines)? Do you plan to write in other genres?
To date, for fictional writing, I have only written and published in the mystery genre in the present-day San Francisco area. My next book, however, departs from this genre and tells the story of a judge in 1939 Ventura County who joins with a witness to help a juvenile criminal. I spent a year researching the time period, and read the entire year of a local 1939 daily newspaper. I found it fun to research and I delighted writing the book. It's going through the editing process now, and I plan to publish it in mid-2015. Following that, I plan to release the second Brynn Bancroft mystery in November 2015.
You make the research sound fun, and what an interesting subject. But time's running out, so one final question before I let you go. Since I love your title, which comes first, the story or the title to the story?
Smile. Boy, does that depend!!! For the Jillian Hillcrest mysteries, the title ON MESSAGE came first. As a public relations professional, I was familiar with the term and wanted to introduce my sleuth in her element. I selected the title for OPEN MEETINGS based on dialogue with two of the characters who discussed the Brown Act, a California law that claims the rights of citizens to attend open meetings of local legislative bodies. The book deals with the suspicious actions of the law-enforcement arm in a small town in California –definitely not including the population in "open meetings." FAIR DISCLOSURE was another title that followed the topic of the book dealing with illegal disclosure of inside information—oh, and a few murders along the way.
When we come to HILLTOP SUNSET, however, I agonized over the title. The working title was "Short Timer" reflecting Brynn's remaining short tenure at her company and her behavioral transition to a more decent human being. However, alpha and beta readers figuratively "spit" on that title. In the end, I turned to the name of the winery that Brynn embraced, hoping it didn't sound more like a romance than a mystery. Given that I was initiating a new series, it was probably wise to shift the type of title to cue a new protagonist.
Thank you so much for visiting my blog Joyce, and I hope both book and blog tour do well. Hilltop Sunset sounds a really good read - as do the other mysteries.
Joyce T. Strand, Biography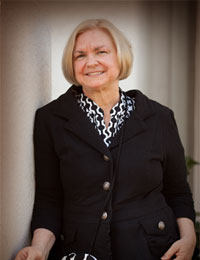 Joyce T. Strand is the author of who-done-it mysteries set in the San Francisco Silicon Valley and Napa-Sonoma wine regions of California.
Her most recent novel, HILLTOP SUNSET, is the first of a new series featuring protagonist Brynn Bancroft, a financial guru in transition to winemaker from corporate executive. Brynn Bancroft plays a minor role in Strand's novels ON MESSAGE, OPEN MEETINGS, and FAIR DISCLOSURE—three mysteries solved by Jillian Hillcrest, a publicist whose boss was Chief Financial Officer Brynn Bancroft.
Much like her protagonist Jillian Hillcrest, Strand headed corporate communications at several biotech and high-tech companies in California's Silicon Valley for more than 25 years. Unlike Jillian, however, she did not encounter murder in her career. She focused on writing by-lined articles, press releases, white papers, and brochures to publicize her companies and their products.
Strand lives with her two cats and collection of cow statuary in Southern California, and seeks out and attends as many Broadway musicals and other stage plays as possible.
She received her Ph.D. from the George Washington University, Washington, D.C. and her B.A. from Dickinson College, Carlisle, PA
Hilltop Sunset:

A Brynn Bancroft Mystery
A mystery set in wine country pitting financial exec Brynn Bancroft against a determined stalker, murder, a troubled love interest, and career clashes.
Brynn Bancroft learns that a former employee who beat her nearly to death has returned to stalk her and her friend, Jillian Hillcrest, also a former victim.
Recently divorced, Brynn turns to a new love interest only to encounter additional unwelcome entanglements. Meanwhile, short-timer Brynn, who has resigned from her Silicon Valley company, becomes bored fulfilling her remaining responsibilities there. She begins to prefer supporting the launch of her ex-husband's new hilltop winery while waiting to move to her next position. Between her stalker and her new love interest, Brynn faces a series of life-threatening events.
Purchase Links
HILLTOP SUNSET
Amazon Paperback and Kindle
Barnes and Noble Nook
Signed Paperback: Unicorn Book Store
Twitter: @joycetstrand