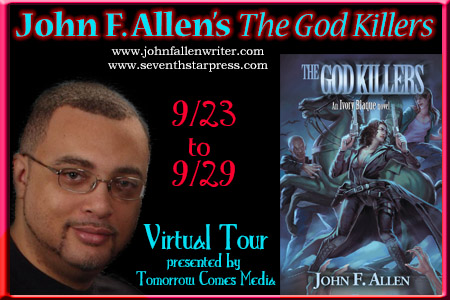 Wandering warily to my computer, checking over my shoulder, checking inside the screen... is someone watching me?
Today I'm listening in as author John F. Allen interviews Ivory Blaque from The God Killers. So make sure your artwork's firmly fastened to the wall, get Grandpa's ancient pistols out from under the bed (yes, my Granddad really did have a WWI gun hidden away--I found it when I was playing hide 'n seek one day), and make sure you don't have any scarily incriminating documents lying around...
Sitting down warily at the computer, may I welcome John and Ivory:
John:
Hello everyone! Today
is day four of the John F. Allen book tour. I'd like to thank my publisher, Seventh Star Press for this fantastic opportunity and also Sheila Deeth for hosting today's stop on the tour. This entry is an interview with the protagonist of The God Killers, Ivory Blaque.

John: What is your real, birth name? What name do you use and why?
Ivory:
My birth name is Dominique Blaque, but I work and operate under the name Ivory Blaque. Ivory is the nickname my father gave me because of my light complexion due to a rare form of albinism.

John: Do you have a job? If so, what is it?
Ivory: Yes, I own an art gallery in River North; Chicago, IL called The Blaque Gallery. I also recover stolen art for private owners/collectors. Lately a clandestine government agency has been after me to work for them…I'm not completely sold on that idea.

John: What agency is it?
Ivory: What part of clandestine don't you understand?

John: Err…yeah, moving right along. When did you go through whatever made you supernatural?
Ivory: I was born with the ability to see the auras of both humans and supernatural beings. So, in some respects I've always had some inherent supernatural ability I suppose. But, things really took off when I first touched the God Killers, a pair of powerful mystical pistols.

John: What do you think now of being supernatural? Is it cool, or have you been screwed?
Ivory: It has its advantages for sure. Enhanced senses, strength, speed, endurance, agility and healing. I can also say that it usually ends up getting me into some sort of problem as now I'm forever tied to the supernatural world. I've always been an action junkie, but this takes it to a whole other level!
Ivory: Apparently you've never met one in person? They also happen to be the most ruthless, manipulative, arrogant and egotistical bastards to ever walk the earth. I hate them because they were responsible for the death of my parents. Only one of them has earned my respect and that was only because he's never lied to me and hates them almost as much as I do.

John: What do you think of the other denizens of the World of Darkness? Why for each? (If you haven't met something, do you think it exists, and if it does, is that bad or good?)
Ivory: I've come to accept that all of the creatures of fairy tales, myth and folklore that go bump in the night are real. I have encountered werewolves and although they tend to be extremely aggressive, possessive and bordering pathological, they can be good friends. Another thing they have going for them is their general disdain for vampires. As for other creatures, zombies are mindless animated corpses and mummies are animated corpses wrapped in cloth only they are possessed by the spirit of their last inhabitants or somebody with an ancient relic that controls them.

John: Do you believe in God? If so, what do you think God thinks of you and what you do?
Ivory: Yes, I believe in God although I often struggle with my faith. I've been told that my ultimate destiny is earth changing and prophetic. If that's true, I'd think God must find that I'm on the predestined path that has been chosen for me.

John: What kind of equipment do you consider indispensable in your line of work, and why?
Ivory: I wear an iron and silver cross at all times. Most preternaturals are extremely allergic to iron and/or silver. I also wear a specially designed bodysuit made of flame, cut and bullet resistant material. The bodice is plated to protect my major organs from most types of gunfire and puncture weapons. I also carry several blades made of titanium still and edged with silver. Of course I'm always armed with The God Killers, which never run out of ammo and can kill any sort of supernatural baddie out there, including gods, hence the name.

John: What is your greatest fear?
Ivory: As cliché as it may sound, my greatest fear is fear itself. I still experience fear, but I've never let it cripple me and that type of fear is what I fear most because that can get me killed. Even though I've grown extremely difficult to kill, it doesn't mean that it can't be done.

John: Well, it appears our time is up. Thank you for the interview Ivory.
Ivory: You're welcome, thanks for having me.

John: Please join me tomorrow for another entry of The God Killers blog tour. I'd again like to thank Sheila Deeth for hosting this entry.
Thank you John, and Ivory. It was a pleasure to host you both.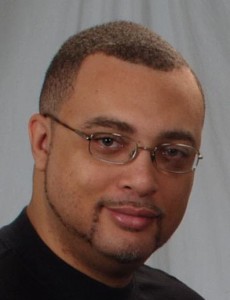 About John F. Allen:
John F. Allen is an American writer born in Indianapolis, IN. John began writing stories as early as the second grade and pursued all forms of writing at some point, throughout his career. John studied Liberal Arts at IUPUI with a focus in Creative Writing, received an honorable discharge from the United States Air Force and is a current member of the American Legion. John's debut novel, The God Killers was released in 2013 with Seventh Star Press. John currently resides in Indianapolis, Indiana with his wife, son and daughter.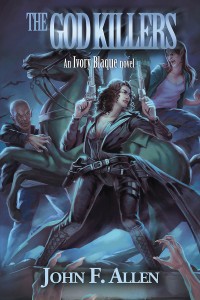 Book Synopsis:
In The God Killers, the first book of The God Killers Legacy, former professional art thief Ivory Blaque is hired to procure a pair of antique pistols and gets much more than she bargained for when several attempts are made on her life. Her client turns out to be a shadowy government agent who reveals that she is descended from a race of immortals, and that the pistols are linked to her unique heritage and the special psychic gifts she possesses. He uses the memory of her father to guilt her into working for him. Ivory eventually gives in to his request, and in return, he presents her with her father's journal, which was written in an unbreakable code. Bishop believes that she is the only one capable of breaking the code and unlocking the plans of the vampire hierarchy. But when the city's top vampire is a sexy incubus with an attraction for her and she's assigned a hot new lycan enforcer to protect her, she finds herself caught between two sets of rock hard abs. To regain her autonomy, clear her name, unlock the secrets of her past, and protect the lives of those closest to her, Ivory must play along with the forces trying to manipulate her. Ivory's life is rapidly spiraling out of control and headed for an explosive conclusion which she just might not survive.
Author Links:
Website/Blog -
www.johnfallenwriter.com
Facebook Author's Page -
https://www.facebook.com/#!/johnfallenwriter
Twitter -
https://twitter.com/johnfallen1970
Facebook Fan Club Page -
https://www.facebook.com/#!/groups/650402134970441/
Find out more by following the Tour:
9/23 A Haunted Head Interview
9/23 Azure Dwarf Promo Spotlight
9/24 SpecMusicMuse Review
9/24 Come Selahway With Me Guest Post
9/24 The Dan O'Brien Project Promo Spotlight
9/25 Bee's Knees Reviews Review
9/26 Beauty in Ruins Review
9/27 Readings Sunshine Promo Spotlight
9/27 Word to Dreams Promo Spotlight
9/27 Armand Rosamilia, Author Guest Post
9/28 Sheila Deeth Character Interview
9/28 Laurie's Thoughts and Reviews Guest Post
9/28 Workaday Reads Review
9/29 Jess Resides Here Author Interview
9/29 Illuminite Calginosus Promo Spotlight
Buy the Book at:
Amazon Print Version
http://www.amazon.com/The-God-Killers-John-Allen/dp/1937929167
Kindle Version
http://www.amazon.com/God-Killers-Legacy-ebook/dp/B00E4TD5QO
Nook
http://www.barnesandnoble.com/w/the-god-killers-john-f-allen/1115994725?ean=2940148771142
Kobo
http://store.kobobooks.com/en-US/ebook/the-god-killers
iBookstore
https://itunes.apple.com/us/book/the-god-killers/id691145926?mt=11