Will the TV character be the same as the book? Meet Rayden Valkyrie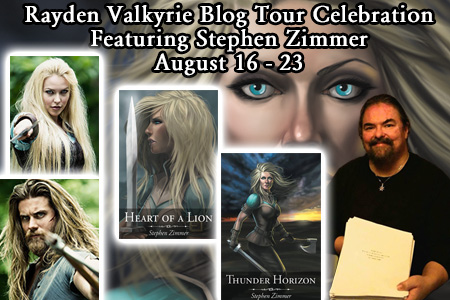 Today I'm delighted to welcome author and filmmaker Stephen Zimmer to my blog as part of his Rayden Valkyrie celebration. I read and thoroughly enjoyed Heart of a Lion, first of the Rayden Valkyrie novels, some time ago - click on the link to find my review. But now there's a second book, Thunder Horizon, and a TV PILOT too !!!!!
Knowing about the TV Pilot, and seeing all those screenshots as they've been released, I just had to ask Stephen about...
The Road from Book to Television: How Does it Affect An Author Seeing Real People Portraying One's Characters
It has been a very exciting time for me, seeing the character I most love to write, and have a deep affinity for, coming to the screen. Rayden Valkyrie has been a very special character to write. Having personally inspired me during some difficult times, I have a strong drive to see her be a similar beacon of light to others going through various trials and struggles in life.
The world of novels and short stories is a safer harbor for an author, as the book or short story is the final product. The author is able to exercise control over all aspects of how a character is portrayed in the story taking place on the page.
The world of movies and television episodes is different. A screenplay is just a foundation, and the medium is a collaborative one that will see a number of other individuals involved along the way who will leave their own marks. Directors, costume designers, and many others add to the mix of what becomes the final product. When it comes to a character being portrayed on screen, the actor or actress may have the biggest impact of all in how a character is seen and received by audiences.
Letting a character like Rayden go to the screen does involve a bit of risk. I want to see her portrayed accurately, in terms of both her inner and outer strengths. I want her to resonate like she does on the page.
The casting is critical in this regard, and I can definitely understand the frustration many authors have had with productions that are far beyond their control, such as Hollywood-level ones. Fortunately, I was able to direct the Rayden Valkyrie Saga of a Lionheart: TV Pilot, so I was able to identify an actress, Sol Geirsdottir, who visually was a great match for the book character.
Even so, I do understand that the production of movies and TV shows is an entirely different medium than books. I value the collaborative aspects of production, and fully expected Sol to have her own thoughts on her performance, and our costume designer Timothy Shackleford to have design ideas, to name a couple.

That is where I have to separate myself from being an author, and in some ways even being the screenwriter, and let the process take its course without trying to micromanage everything.
Does that involve risk and having a little faith in the people you have surrounded yourself with in a production? Of course it does. But at the end of the day I know that individuals are going to shine when they are given room to breath and exercise their own talents.
In this case it resulted in seeing Rayden come to life many times on set, and now that we are in post-production I see it happening on screen as well. For me, that has been very exciting and fuels my enthusiasm for telling Rayden Valkyrie stories.
I suppose I am a bit fortunate in that I can separate the mediums of movies and books internally, and value the processes involved in both. In my mind, I still see the Rayden I saw when I first started writing her tales, so that has not been affected by the production of the TV Pilot. Rayden is who she is, and Sol Geirsdottir's challenge resided in portraying that character as best as she could.
Admittedly, audiences for the TV Pilot might form their image of Rayden from the show, but if they want to understand the character to the fullest, the books and short stories are the conduit into the interior of the character in a way that a movie or TV show can never approach.
Seeing a real person portraying Rayden Valkyrie has been exciting, and I would love to see Sol's performance resonate with audiences and increase interest in Rayden. Yet no matter what may happen with the TV Pilot or possible first season, I am just as fired up as ever to continue to reveal Rayden Valkyrie's incredible story!
Thank you Stephen. Certainly the photos I've seen of Sol Geirsdottir in costume resonate with the image I gained of Rayden from your novel. She's a very cool character and one I'd love to read (and maybe now watch) more of. But it's interesting that you see Sol and yourself as both trying to portray a character who has an existence unique to herself. Very cool. Rayden is a very cool character.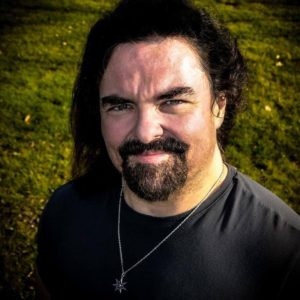 About the author:
Stephen Zimmer is an award-winning author and filmmaker based out of Lexington Kentucky. His works include the Rayden Valkyrie novels (Sword and Sorcery), the Rising Dawn Saga (Cross Genre), the Fires in Eden Series (Epic Fantasy), the Hellscapes short story collections (Horror), the Chronicles of Ave short story collections (Fantasy), and the Harvey and Solomon Tales (Steampunk).
Stephen's visual work includes the feature film Shadows Light, shorts films such as The Sirens and Swordbearer, and the forthcoming Rayden Valkyrie: Saga of a Lionheart TV Pilot.
Stephen is a proud Kentucky Colonel who also enjoys the realms of music, martial arts, good bourbons, and spending time with family.
Find him online:
Twitter:
@SGZimmer
Facebook: www.facebook.com/stephenzimmer7
Instagram: @stephenzimmer7
Website: www.stephenzimmer.com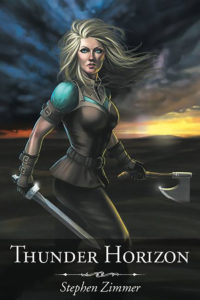 About Thunder Horizon:
A deadly menace stalks the shadows of the lands to the north, stirring the winds of war. Farther south, the power of the Teveren Empire spreads with every passing day, empowered by dark sorcery. Formidable legions bent on conquest are on the march, slavery and subjugation following in their wake.
Within the rising maelstrom, Rayden Valkyrie has returned to the Gessa, to stand with the tribe that once took her into their care as a child. No amount of jewels or coin can sway her, nor can the great power of her adversaries intimidate her.
With a sword blade in her right hand and axe in her left, Rayden confronts foes both supernatural and of flesh and blood. Horrific revelations and tremendous risks loom; some that will see Rayden's survival in the gravest of peril.
Even if Rayden and the Gessa survive the trials plaguing their lands, the thunder of an even darker storm booms across the far horizon.
Thunder Horizon is the second book in the Dark Sun Dawn Trilogy. Find it online at:
Kindle Version
https://www.amazon.com/Thunder-Horizon-Dark-Dawn-Book-ebook/dp/B06ZZ7JT56/
Amazon Print Version
https://www.amazon.com/Thunder-Horizon-Dark-Dawn-Trilogy/dp/1941706576/
Barnes and Noble Link for Thunder Horizon:
https://www.barnesandnoble.com/w/thunder-horizon-stephen-zimmer/1126268394?ean=9781941706572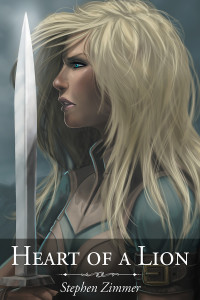 About Heart of a Lion:
Rayden Valkyrie. She walks alone, serving no king, emperor, or master. Forged in the fires of tragedy, she has no place she truly calls home.
A deadly warrior wielding both blade and axe, Rayden is the bane of the wicked and corrupt. To many others, she is the most loyal and dedicated of friends, an ally who is unyielding in the most dangerous of circumstances.
The people of the far southern lands she has just aided claim that she has the heart of a lion. For Rayden, a long journey to the lands of the far northern tribes who adopted her as a child beckons, with an ocean lying in between.
Her path will lead her once more into the center of a maelstrom, one involving a rising empire that is said to be making use of the darkest kinds of sorcery to grow its power. Making new friends and discoveries amid tremendous peril, Rayden makes her way to the north.
Monstrous beasts, supernatural powers, and the bloody specter of war have been a part of her world for a long time and this journey will be no different. Rayden chooses the battles that she will fight, whether she takes up the cause of one individual or an entire people.
Both friends and enemies alike will swiftly learn that the people of the far southern lands spoke truly. Rayden Valkyrie has the heart of a lion.
Heart of a Lion is Book One of the Dark Sun Dawn Trilogy. Find it online at:
Kindle Version
https://www.amazon.com/Heart-Lion-Dark-Dawn-Book-ebook/dp/B00T44R6LE/
Amazon Print Version
https://www.amazon.com/Heart-Lion-Stephen-Zimmer/dp/1941706215/
Barnes and Noble Link for Heart of a Lion:
https://www.barnesandnoble.com/w/heart-of-a-lion-stephen-zimmer/1121113044?ean=9781941706213
About the TV Pilot for
Rayden Valkyrie: Saga of a Lionheart:
Watch and enjoy!
https://www.youtube.com/watch?v=v7w_UI_RCg4&t=34s
Find out more: Follow the Tour
8/16 The Temple of the Exploding Head Guest Post
8/16 The Page Turner Guest Post
8/16 BOOKS TO CURL UP WITH Author Interview
8/16 Bookishly me Author Interview
8/16 DarWrites Guest Post
8/16 Sheila's Guests and Reviews Guest Post
8/16 Sapphyria's Books Guest Post
8/16 Deal Sharing Aunt Top Ten's List
8/17 DarWrites Review
8/17 Bookin Around Town Author Interview/Podcast
8/17 Full Moon Bites Character Interview
8/18 BOOKS TO CURL UP WITH Review
8/18 The Sinister Scribblings of Sarah E. Glenn Top Ten's List
8/18 I Smell Sheep Guest Post
8/19 Paranormal Pleasures Review
8/19 The Page Turner Review
8/19 Bella's Book Reviews Review
8/19 Jeni's Bookshelf Guest Post
8/20 3 Partners in Shopping, Nana, Mommy, & Sissy, Too! Guest Post
8/20 The Seventh Star Blog Guest Post
8/20 Stuart Thaman Books Guest Post
8/21 MyLifeMyBooksMyEscape Author Interview
8/21 SpecMusicMuse Author Interview
8/21 Jordan Hirsch Review
8/22 Beauty in Ruins Guest Post
8/22 Discover New Authors Author Interview
8/22 Butterfly's Booknerdia Blog Review
8/23 The Occult Detective Review
8/23 Bookishly me Review
8/23 Jeni's Bookshelf Review
8/23 Jorie Loves a Story Interview
8/23 Readers Life With Trisha Ratliff Review