Ryding Out those Publishing Storms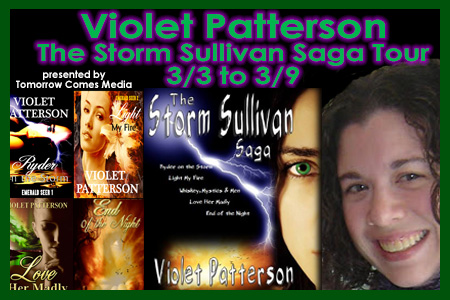 Who would you choose to ride a storm with? And if you were to write a storm, where would it take you, and would you love the ride?
Today I'm delighted to welcome author Violet Patterson to my blog. She's written a wonderful series of books--the Storm Sullivan Saga. She's living the dream, maybe, with her seers, seraphs and immortals, and downloads, and eager readers. But... well... you'll see...
Over to you Violet, and thank you for offering such a fascinating insight into the world of publishing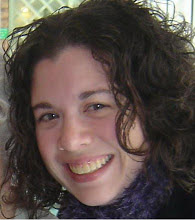 The publishing world is a strange beast.
It can be reminiscent of an experienced lover taking his slow, sweet time to tickle you pink or somebody more green who's over and out before you've even blushed.
The question is, which would you rather have?
I've seen the latter but hope for the former.
I had a little luck in the very beginning of my self-publishing career – emphasis on the word luck – but I've been unable to sustain or replicate it.
My hope is that I've left that careless lover behind in pursuit of something, er, well, more involved.
Let me explain.
My first book was released in November 2011 followed quickly by the sequel so that by the time March rolled around I was sitting pretty on a successful three day freebie promo (first book only) that resulted in more than 20,000 downloads and dozens of sales of both the first and second book.
For three full months I was living the dream as I saw my profits soar and thought (foolishly) that I could at that time make a living off of my books and an enjoyable part time job.
Flash forward a few months and a few Ammy algorithm rewrites later and I'm lucky to be making $100 in a month.
Even though I released the rest of the series by mid 2013, I was not feeling the love any longer.
See, I was almost as hasty as an inexperienced lover.
Time.
Taking time is the way to go.
I was feeling pretty low for a bit until I realized what I've built in the interim.
I have a brand, I have a base of friends with mutual interests (both online and on the convention circuit) and I've published an entire series of books plus some random stories.
I've got a new trilogy in the works and I'm adapting.
That's what we all have to do to make it in this beast of an industry.
And I gotta tell you, I'm looking forward to the experienced lover.
I'm a patient gal so I'm more than happy to take my time so that I can truly appreciate the experience when it is finally my turn.
Thank you Violet. You inspire me to believe patience might eventually pay off, so I'll keep writing and dreaming... and loving the dream.
Author: Violet Patterson
Featured Book Release
The Storm Sullivan Saga Box Set
(Book One: Ryder On the Storm)
About the Author:
Known in the convention circuit for her extravagant handmade top hats, Violet Patterson has also romanced her way into the hearts of Urban Fantasy readers with the Emerald Seer Series. With a cast of Seers, Seraphs, Immortals and more, Violet strives to leave her Midwestern roots behind as she soars to the far reaches of her imagination to compose vibrant stories of action and intrigue, magic and fantasy. Her current project promises to imbue part of the Emerald's world with a healthy dose of Steampunk – stay tuned for Immortal Machinations.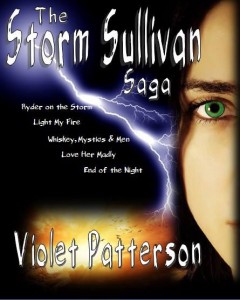 Book Synopsis The Storm Sullivan Saga Boxed Set:
It began with tragedy.
Continued with rebirth.
Faithful friends...with secrets of their own.
Intensified with an uncovered past.
How will it all END?
Storm Sullivan's life is a mystical mine field following the death of her Aunt Trin and it only gets worse. Thrown into the battle of the ages, Storm finds herself surrounded by Immortals, Seraphs, Fairies, Vampires, Witches and a Phoenix! Can she unravel the mysteries of her family's past in time to save them all?
For the first time ever, the Kindle Bestselling Emerald Seer Series is brought to you in one massive box set. Magic and mystery, adventure and romance converge in this series touted as "unique and imaginative." Mystical beings from Deities to Seraphs, a Phoenix, Immortals and more, the Emerald Seer Series is a fantastical ride with several converging story lines that will keep you guessing.
Book Synopsis:
Ryder On the Storm:
Storm Sullivan is a Seer from an ancient line forced to return home after the brutal murder of her aunt. But Storm finds she's inherited more than just the family estate.
Ryder Cohen is an Immortal, a former enforcer commissioned to eradicate the Sullivan line and prevent the rise of the Emerald. But Ryder has come to question his mission and the reasons behind it.
Ryder On the Storm is the first in the Emerald Seer series. An urban fantasy with a supporting cast of Immortals, Seraphs, and Deities this is just the beginning of Storm's journey.
The Emerald Seer saga continues with rebirth in LIGHT MY FIRE and intensifies with an uncovered past in LOVE HER MADLY. Still craving more Emerald Seer action? Check out WHISKEY, MYSTICS, and MEN to discover Angeline's secrets.
Author Links:
Blog:
http://emeraldseer.blogspot.com
Twitter: @booksbyviolet
Facebook:
https://www.facebook.com/pages/Violet-Patterson/292923177397400
Tour Schedule and Activities
3/3 Deal Sharing Aunt Tour Wide Contest
3/4 I Smell Sheep Character Post
3/5 Workaday Reads Review
3/5 Sheila Deeth Guest Post
3/5 Jess Resides Here Author Interview
3/5 Sapphyria's Book Reviews Promo/Spotlight
3/6 Alexx Momcat's Gateway Book Blog Character Interview
3/6 Jorie Loves a Story Review
3/7 Jorie Loves a Story Guest Post
3/7 Come Selahway With Me Interview
3/8 Bee's Knees Reviews Review
3/8 Laurie's Paranormal Thoughts and Reviews Guest Post
3/9 Jorie Loves a Story Author Interview/Reader Submitted Questions
Amazon Links for The Storm Sullivan Saga: Emerald Seer Box Set
Print Version
Coming soon
Kindle Version
http://www.amazon.com/Storm-Sullivan-Saga-Emerald-Seer-ebook/dp/B00HYPKRKC
Amazon Links for Ryder On the Storm
Print Version
http://www.amazon.com/Ryder-Storm-Emerald-Seer-I/dp/1468130315
Kindle Version
http://www.amazon.com/Ryder-Storm-Emerald-Seer-1-ebook/dp/B0063Y6ZWO