Boxed or Trained? Where does Steampunk Inspiration come from?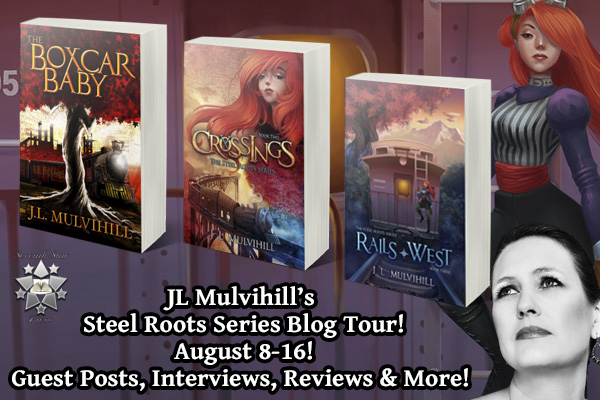 Today I'm delighted to welcome JL Mulvihill to my blog, author of the Steel Roots series which began, not so many years ago, with the wonderful Boxcar Baby (click for my review) I'm eager to "meet" her here... and eager to read more of her series. (Will someone please invent time travel so I can fit more reading hours into the day!) So here she is, ready and waiting to tell us about inspiration, steampunk, history, fantasy, and, of course, trains. If you ever dreamed of growing up to be a train driver... Welcome!
J L Mulvihill
Changing the world one story at a time.
You may ask me where I draw my inspiration from when combining real historical detail with fantasy. I feel sometimes like I am standing in more than one world at a time. I have a fondness for fantasy and the wonderful child-like state of believing in it all. Yet, I am also fascinated by history and the evolution of invention. I am also a firm believer that every element in a story should be conceivable even if the story is fantasy. A compelling story is one where the reader can immerse themselves without the stumbling blocks of "Oh that is so not real."
Steampunk is one of those amazing genres where you can make it all possible if you just try. I tend to do a lot of historical research for my stories. I research everything including places, events as well as historical people and technology. It's fun to incorporate a fact which the reader can look up and see that this is real and then wonder if maybe it's all real. Taking the factual and adding a twist of fiction ever so slightly makes the story so it is almost believable yet not near impossible.
One of my favorite authors, L. Frank Baum wrote an impossible world called the Land of Oz. Yet, when he wrote of OZ he created this land in such a way that people truly wanted to believe that it was and is a real place. I read in his biography that he wrote a weekly column in the newspaper chronicling the misadventures of various characters in the Land of Oz. People bought the paper with eager anticipation of the news from the Land of Oz as if the place were real. As a child I lived in this world and many others and I think maybe a lot of my inspiration for the Steel Roots series may have come from these adventures.
I also love the author Laura Ingalls Wilder and her Little House on the Prairie books. I enjoyed the stories she wrote about her childhood living a simple yet dangerous life on the frontier. The stories she wrote are real stories and real places with real people who touched my young mind and heart as much as the fantasy characters did.
I have always had an interest in history even at an early age. I am fascinated by the past and often wondered if I had been born in the wrong time. I realize the hardships endured by the lack of modern technology made life difficult. Yet, the simplicity of life mixed with the wonder of invention in this particular era is amazing and eye opening.
What can I say about trains though, and why I chose this historical aspect? I remember when I was a little girl and I stayed with my grandparent in Red Bluff California. I would hear the train whistle at night in the distance, and the sound always comforted me and lulled me to sleep. I think back on this event fondly, wanting to share it with the world and immortalizing my own memories. This too makes it all so real not just for the reader but for me as well when I write the story. I think all these factors combined are my inspiration and why it all blends so well.
J L Mulvihill
Changing the world one story at a time.
Thank you so much! And now, what else can readers learn about the Steel Roots Series
More and more readers are discovering the wonderfully imaginative Steel Roots Series from JL Mulvihill! A young adult, steampunk, alternative history adventure, the Steel Roots series features three books, The Boxcar Baby, Crossings, and Rails West.
Character-driven and beautifully written, the Steel Roots series is the focus of this new blog tour running from August 8-16!
Read on to find out more about the author, the books, and where to find them.
About the author:
A California native born in Hollywood, J.L. Mulvihill has made Mississippi her home for the past seventeen years. Her debut novel was the young adult title The Lost Daughter of Easa, an engaging fantasy novel bordering on science-fiction with a dash of Steampunk, published through Dark Oak Press in 2011. The sequel to this novel is presently in the works.
Her Most recent novel, The Boxcar Baby of the Steel Roots series, was released in July 2013 through Seventh Star Press. Steel Roots is a young adult series based in the Steampunk genre and engages the reader into a train hopping heart stopping adventure across America. Book 2, Crossings released December of 2014.
She is also the co-editor of Southern Haunts; The Spirits That Walk Among Us which includes a short story of her own called Bath 10, and a fictional thriller involving a real haunted place. Her poem, The Demon of the Old Natchez Trace, debuts in Southern Haunts part 2, Devils in the Darkness.
J.L. also has several short fiction pieces in publication, is very active with the writing community, and is the events coordinator for the Mississippi Chapter of Imagicopter known as the Magnolia-Tower. She is also a member of the Society of Children's Book Writers and Illustrators (SCBWI), Gulf Coast Writers Association (GCWA), The Mississippi Writers Guild (MWG), as well as the Clinton Ink-Slingers Writing Group.
Where to find her:
Facebook: https://www.facebook.com/mulvijen/
Twitter:
@JLMulvihill
Official sites:
http://elsielind.com
http://jlsbooks.blogspot.com/
http://home.comcast.net/~mulvijen/site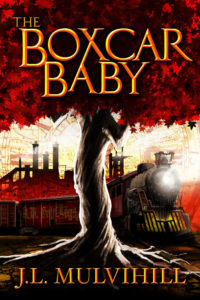 About The Boxcar Baby:
Born in a boxcar on a train bound for Georgia. At least that is what Papa Steel always told AB'Gale. But now, fifteen years later, the man who adopted and raised her as his own is missing and it's up to AB'Gale to find him.
Aided only by a motley gang of friends, AB'Gale train hops her way across the United States in a desperate attempt to find her papa and put her life and family back the way it was. Her only guide is a map given to her by a mysterious hobo, with hand written clues she found hidden in her papa's spyglass.
Here is the Great American Adventure in an alternate steampunk dystopian world, where fifteen-year-old AB'Gale Steel learns that nothing is as it seems, but instead is shrouded in secrets and mysteries ... and that monsters come in all shapes and forms.
The Boxcar Baby is the first book of the Steel Roots series.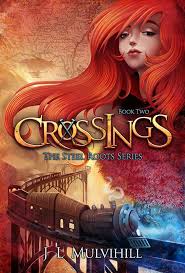 About Crossings:
Bishop Steel is still missing, so AB'Gale must follow the map continuing the search for her papa. Her quest leads Abby down dangerous paths that threaten to get her captured by the System. Danger lurks at every turn of the road, on every doorstep and every train.
Finding it difficult to know who to trust when she discovers she is now wanted for crimes against the System, Abby travels under the guise of a young boy. Conflicted with the desire to rid her world of the unjust or find her papa, Abby finds few friends amid hobos, air pirates, and entrepreneurs.
Abby finds that real friends will never abandon you, nor will they allow you to give up on your convictions. A true awakening to internal conflict and the desire to put right what is wrong, this is the great American adventure ringing with the sound of freedom along the steel routes.
Crossings is Book Two of the Steel Roots Series.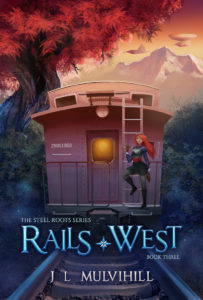 About Rails West:
"The System Regulatory Unit has determined that the responsible parties of last week's explosion in Downtown St. Louis are none other than the notorious Abigail Steel and her band of pirates. She is wanted for questioning regarding numerous acts of rule breaking against the System. She is considered armed and dangerous and should not be approached but informed upon at once."
Not only is her name misspelled, but the System has her description all wrong because AB'Gale Steel is not a criminal. She just wants to find her papa and now she feels she is so close, but will the System catch her before she finds him? And what about the marks on the map the old hobo gave her? What was Papa doing in all those places? Why is the System so concerned about Bishop Steel and his daughter? Are the people of America seething with frustration? And is there an insurgency boiling beneath the surface?
All the answers lie within Rails West.
Where to Find Them:
Amazon.com Links for The Boxcar Baby:
Kindle Version
https://www.amazon.com/Boxcar-Baby-Steel-Roots-Book-ebook/dp/B00E4WTEP2/
Print Version
https://www.amazon.com/Boxcar-Baby-J-L-Mulvihill/dp/1937929205/
Barnes and Noble Link for The Boxcar Baby:
https://www.barnesandnoble.com/w/the-boxcar-baby-j-l-mulvihill/1116032138?ean=9781937929206
Amazon.com Links for Crossings:
Kindle Version
https://www.amazon.com/Crossings-Steel-Roots-Book-2-ebook/dp/B00QEKDVMO/
Print Version
https://www.amazon.com/Crossings-J-L-Mulvihill/dp/1941706983/
Barnes and Noble Link for Crossings:
https://www.barnesandnoble.com/w/crossings-j-l-mulvihill/1120853544?ean=9781941706985
Amazon.com Links for Rails West:
Kindle Version
https://www.amazon.com/Rails-West-Steel-Roots-Book-ebook/dp/B01GLQAH8Q/
Print Version
https://www.amazon.com/Rails-West-J-L-Mulvihill/dp/1941706460/
Barnes and Noble Link for Rails West:
https://www.barnesandnoble.com/w/rails-west-j-l-mulvihill/1124168836?ean=9781941706466
Find out more: Follow the Tour!
8/8 Jazzy Book Reviews
http://bookreviewsbyjasmine.blogspot.com
Guest Post
8/8 I Smell Sheep
http://www.ismellsheep.com/
Guest Post
8/9 Inspired Chaos
http://inspiredchaos.weebly.com/blog
Guest Post
8/9 Breakeven Books
https://breakevenbooks.com
Author Interview
8/10 Sheila's Guests and Reviews
https://Sheiladeeth.blogspot.com
Guest Post
8/11 Bookmark Your Thoughts
https://bookmarkyourthoughts.blog
Review
8/11 Ravenous for Reads
https://www.ravenousforreads.com
Author Interview
8/11 Sapphyria's Books
https://saphsbooks.blogspot.com/
Guest Post
8/12 The Book Lover's Boudoir
https://thebookloversboudoir.wordpress.com/
Review
8/13 The Reading Bud
https://thereadingbud.com
Review
8/14 Swords and Red ses
https://swordsandrosess.wordpress.com/
Review
8/14 Ravenous for Reads
https://www.ravenousforreads.com
Guest Post
8/15 Literature Approved
http://literatureapproved.com
Review
8/15 Honestly Austen
http://honestlyausten.com
Review
8/16 YA/NA Book Divas
http://facebook.com/yareeds
Guest Post
8/16 Love Bites and Silk
http://www.lovebitesandsilk.co.uk/
Guest Post